Stable Masters II
Sorry this product is no longer available
"Just to let you know I have received the Stable Masters 2 software. I have played the game for the last few hours and find it very addictive. What a brilliant piece of software and excellent value for money". Steven
Imagine owning and training a stable of thoroughbred racehorses; the tactical decisions, the training, the finance and the glamour of the race.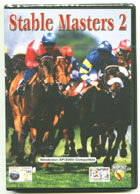 Stable Masters recreates this unique world and lets you live your dreams as a stable owner, manager and trainer all at once. Great care has been taken to stay as faithful to the sport as possible.

You are assigned a small stable of medium ranked horses and it is up to you to train and feed them, book jockeys and eventually race and manage them to victory, gaining prize money along the way.


It is your job to train each horse to their individual needs, entering them for the appropriate up and coming races, slowly building them up into a winning thoroughbred horse. The correct decisions need to be made at every level to ensure that you lead your stable to glory. You must be careful not to overrun your horses as you enter them in small races initially, building their stamina and hone their running preferences.

As your horses' become more experienced and improve their ranking, they can be entered into the bigger races for bigger prize money and become true thoroughbreds. To achieve this you need to have your finger on the pulse of all the horses in your stable, from the type of feed they require to their preferred running. Only this inside knowledge will give you the advantages necessary to take your stable to the next level.

You can build up your stable of horses buy bidding at the many auctions that take place after listed races, and you can put your own horses up for sale to generate extra funds. This is your opportunity to build up your stable, cutting loose the dead weight and including some of the more legendary runners.

You will also need to keep a close eye on your stable's finances throughout the game, as there are many outgoings that need to be accounted for. As you take on more horses, you will need greater finances to fund extra jockeys and race entries. Juggling the funds will become an integral part of your management tactics.

On race day, you will be able to take part in the most exciting part of the sport; betting! Listen carefully to the enigmatic tipsters as you lay your money on the line. As with all owners, you have the unique opportunity to place a bet on your own horse in the race: if you believe they can win!

Players familiar with racec-ards, form cards and betting slips will feel right at home, while newcomers to the sport can play right away!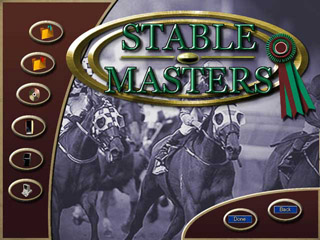 Realistic and detailed flat horse racing simulator.
Train, own horses and bet on races.
Over 3000 horses with 2000 in the game at any one time.
Over 100 UK trainers.
Over 100 UK jockey.
Over 100 UK racecourses.
Over 100 UK stables.
Full UK race calendar plus over 100 Showcase races.
'World series' calendar of worldwide feature races.

Trainers, horses, stables, racecourses and jockeys.
Up to 30 runners per race.
All horse age groups simulated from 2y olds upwards.
Jockeys race orders and feedback.
Detailed racecards.
Accurate betting market percentages.
Four different bets: Win, E/W, SF and FC.
Dynamic formbook storing over 3 years of race details.
Formbook includes individual horse performances.
Individual silks for every owner/trainer in game.
Tipsters.
Exciting graphic race sequence.
Detailed stable/horse management.
Intuitive menu navigation.
Auctions
Take the reins at your very own thoroughbread stable. Buy the raw talent at the yearling sales and train them through to the Classics. You will be solely responsible for determining whether you horse gets tailed off in last place at Doncaster or finishes first at Epsom in the Derby.

Platform: Windows 98, Windows 2000, Windows Me, Windows XP
---